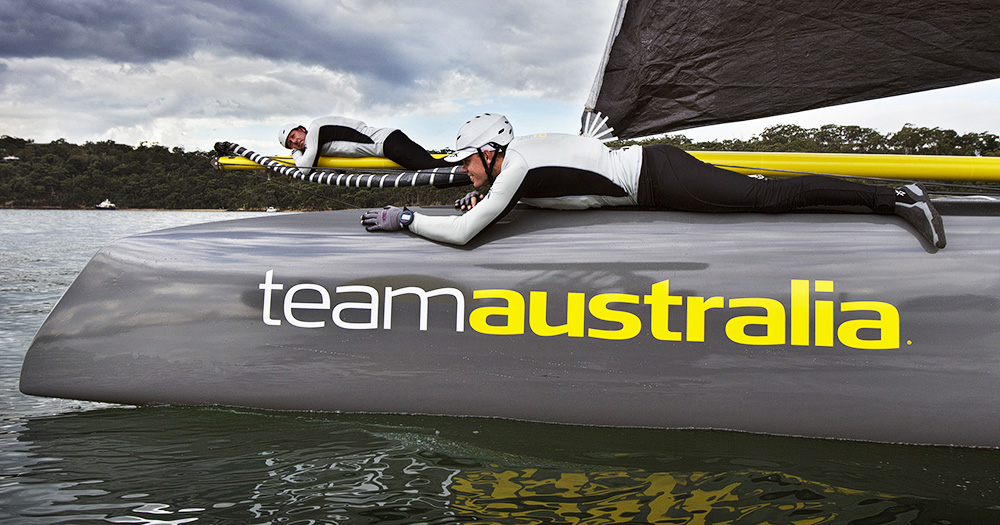 Les règles du protocole de la 35ème édition n'ont jamais été aussi équitable entre le Defender et le Challenger. Il y a toujours autant de théories conspirationistes dans la Coupe que dans les James Bond. C'est dans ces termes que Ian Murray s'est livré à son premier interview dans The Australian depuis la publication du protocole.
It says a lot about the America's Cup that Team Australia chief executive Iain Murray believes the rules under which his team will challenge for the trophy over the next three years are fairer than ever.
As the Challenger of Record, Team Australia had the responsibility of negotiating the protocol of the next competition with the Cup holder, the Golden Gate Yacht Club, and those rules were released yesterday.
Murray said the new rules, which run to 78 pages and took eight months of negotiation, would create a fairer, cheaper, closer competition for the world's oldest sporting trophy.
Cheap is a relative term. Teams will be required to stump up a $2 million entry fee plus a $1m performance bond before they can take to the water.
The boats will be smaller but still hi-tech catamarans; there will be a three-year racing program, which could bring America's Cup racing to Australia for three rounds before the final match in the US; and a new rule will require at least 25 per cent of each crew to be of the nationality of the challenge.
There are new regulations designed to stamp out the legal manoeuvring and skulduggery that were traditionally part of the competition, and a new points system that will reward winning teams as they go into each round of the competition.
"You're never going to be 100 per cent happy, but it's been a hard negotiation over a long period of time and I think it's a step up from where we were last time,'' Murray said.
The Australian challenge, launched by billionaire winemaker Bob Oatley, wanted a 50 per cent nationality rule but has had to compromise.
However, Murray said the move to a smaller foiling catamaran (from 72 feet last time to 62 feet) with more one-design features would reduce costs significantly for all parties, by as much as 30 per cent from the $100m budgets of the last round.
"We are hoping the equipment will become less of a factor and that it is more of an elite sailing competition, but without losing the speed and the spectacle,'' he said.
"The change to the crew size (from 11 to eight, averaging 87.5kg) means that the sailors are going to have to be smaller, fitter and tougher. It's going to be a tough place to be on those boats." A clause that will allow Cup defender, Larry Ellison's Oracle team, skippered by Australian Jimmy Spithill, to build two 62-foot foiling catamarans, while the challengers will be restricted to one each, has raised eyebrows but Murray said it would not give the Americans a significant advantage. "We think it's reasonable,'' Murray said. "They can't use two boats very effectively, because they can only race their two boats in trials once the qualifiers are finished and they can't use the second boat in competition unless they destroy their first boat.''
Murray said the rule was primarily designed to ensure competition went ahead if the defender had catastrophic equipment damage. If the challenger has to drop out because of equipment failure, the runner-up in the challenger series will step up.
"It's pretty unlikely that will happen so you can read more into it than is really there.''
He believes the move to have the regatta director and officials paid from a fund created with the entry fees, rather than out of the defender's pocket, will protect the fairness of the competition.
"There are more conspiracy theories in the America's Cup than there are in James Bond, so we need to ensure the officials are independent,'' he said.
As a challenger, Australia will have the opportunity to host a round of the world series in 2015 and 2016 and to bid for the qualifying series in early 2017. Murray will next be gauging interest from Australia's state-based major events companies in staging an America's Cup round.
He expects there will be six to eight challengers, including Australia, New Zealand, Britain, Italy and Sweden, but France, China, Japan and Russia could also mount a challenge.