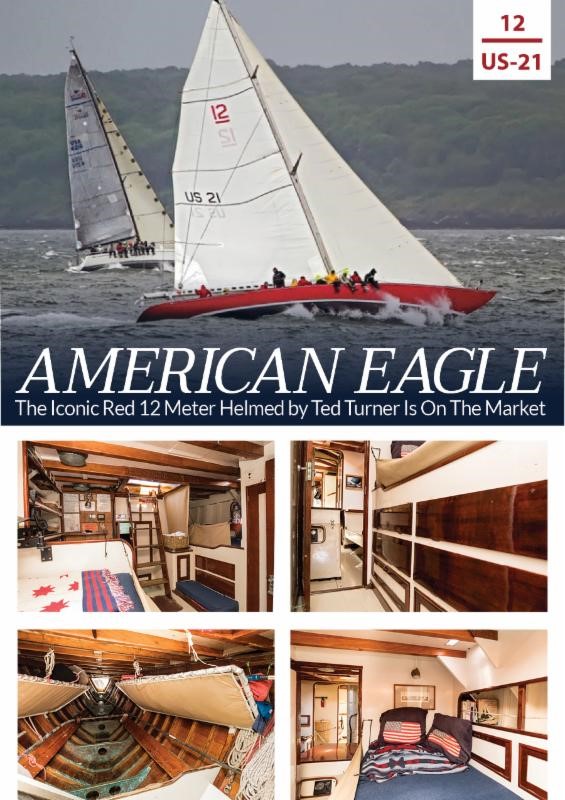 American Eagle, the iconic red 12 Meter helmed by Ted Turner, is on the market and looking to continue a long and storied racing and chartering career. A truly evocative boat credited with defining an entire generation of America's Cup and Offshore sailing, she is seriously for sale to the discerning individual or party who wishes to continue as caretaker of one of the great American racing classics.
This listing comes at the perfect time to begin organizing and executing a competitive campaign for the 2019 12 Meter Worlds; an event she won when it was last held in Newport in 2009.  Her offering includes the opportunity to continue with a Syndicate Charter (with their own suit of racing sails) in place through to the 2019 World Championships. Her win in 2009 was just one of a long and notable winning streak on her résumé including multiple 12M North American Championships, the Fastnet Race, SORC, and notably the Opera House Cup. To that end, American Eagle has been continuously upgraded and maintained in competitive racing and charter trim.
Serving a central role in the America's Cup Charters organization in Newport, American Eagle along with her stablemates Weatherly, Intrepid, and Nefertiti has introduced tens of thousands of vacationers and enthusiasts to the history and thrill of Twelve Meter sailing on Narragansett Bay and beyond for over 30 years. A fixture on the Bay in this capacity, she also traversed the waters from New York Harbor to the Chesapeake, out to Edgartown and Nantucket in her racing and chartering life.  American Eagle's traditional design means she is more moderate and friendly to sail both as a racer and as a Daysailer – while giving up very little in terms of speed. Speed that is very much evident in her bright red livery which makes her one of the most noticeable and photographed Twelve Meters afloat.
American Eagle can be seen or chartered in Newport, Rhode Island.   She provides the opportunity for an interested party to own an all-out racer, a family-friendly Daysailer and/or continue her successful charter operations.  Please contact Central Agent Paul Buttrose for more information or to arrange a showing.