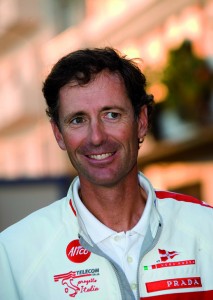 Pour gagner l'America's Cup, il faut atteindre un niveau d'excellence.
C'est un jeu complexe, difficile, où l'on doit apprendre à être le meilleur sur tous les plans, selon des règles données communes à chacune des équipes. Sur la construction et le développement du bateau, sur les appendices et la multitude de détails qui feront la différence, sur l'eau enfin, où chaque manœuvre, chaque tactique fera gagner ou perdre. Le fait que toutes les équipes travaillent dans ce but ultime en tendant vers la perfection rend l'America's Cup passionnante depuis qu'elle existe.
Il faut sans cesse apprendre, et si la compétition paraît longue puisqu'elle dure trois ans, on ne peut jamais vraiment s'arrêter. Sauf après le dernier match, l'apogée, celui où vous remportez la Coupe.
Pour cette 32e édition, le Defender Alinghi a préparé une solide défense. Les Louis Vuitton Acts lui ont permis de s'entraîner et de surveiller de près l'avancement des challengers. Avec ce nouveau format, les régates seront très serrées. L'écart entre chaque bateau sera encore plus réduit que lors de la précédente édition. Le spectacle sera au rendez-vous. C'est ma troisième participation à l'America's Cup. Mon meilleur souvenir ? Il serait facile de se rappeller les régates qu'on a gagné comme la Louis Vuitton Cup en 2000, mais c'est beaucoup mieux de se rappeller de celles qui nous ont fait progresser.
Francesco de Angelis
The Cup is won by learning everyday…
To win the America's Cup, you must reach a level of excellence. It is a complex difficult game, where we must learn how to be the best on all levels given the rules common to each of the teams. In the construction and development of the boat, with the appendages and the multitude of details which will make the difference and finally on the water, where each maneuver, each tactic will make you win or lose. Because each team works towards this ultimate purpose, aiming towards perfection is what has made the America's Cup fascinating since its existence. It is necessary to constantly learn and even if the competition seems long because it lasts three years, we can never really stop. Except after the last match, the highlight, the one where you can bring home the Cup.
For this 32nd edition, Alinghi the Defender has prepared a solid defense. The Louis Vuitton Acts has allowed them to train with and survey up close the challenger's progress. With this new format, the races are very tight. The distance between each boat will be even closer than the last edition. The spectacle will be a big meeting of talent and resources. This is my third time in the America's Cup. My best souvenir? It would be easy to remember the regattas that we won like the Louis Vuitton Cup in 2000, but it is much better to remember the ones where we made progress.
Francesco de Angelis